File Management



File Management feature and menu option is for ease of uploading and managing Plugin related files uploads centrally. It can be used to upload files for Plugins. This is accessible only by sysadmin, as the plugins are uploaded and managed by sysadmin. The main use of this feature is to provide the supporting files to the plugin which can be configurable or constantly changing.

For example, File Management is used to manage latest browser drivers for WebGUI plugin. The flow is as follows.

Upload the latest browser

driver

s (e.g.

<CHROME<VERSION>.zip>

) for WebGUI Plugin -

using Plugin Management on AutomationEdge UI.




Once uploaded the driver is available for both Process Studio and Agent

(f

or Process Studio, additionally, perform Plugin Sync operation so that the drivers are available for automation).



Following are the steps for File Management on AutomationEdge UI,

Navigate to the File Management menu.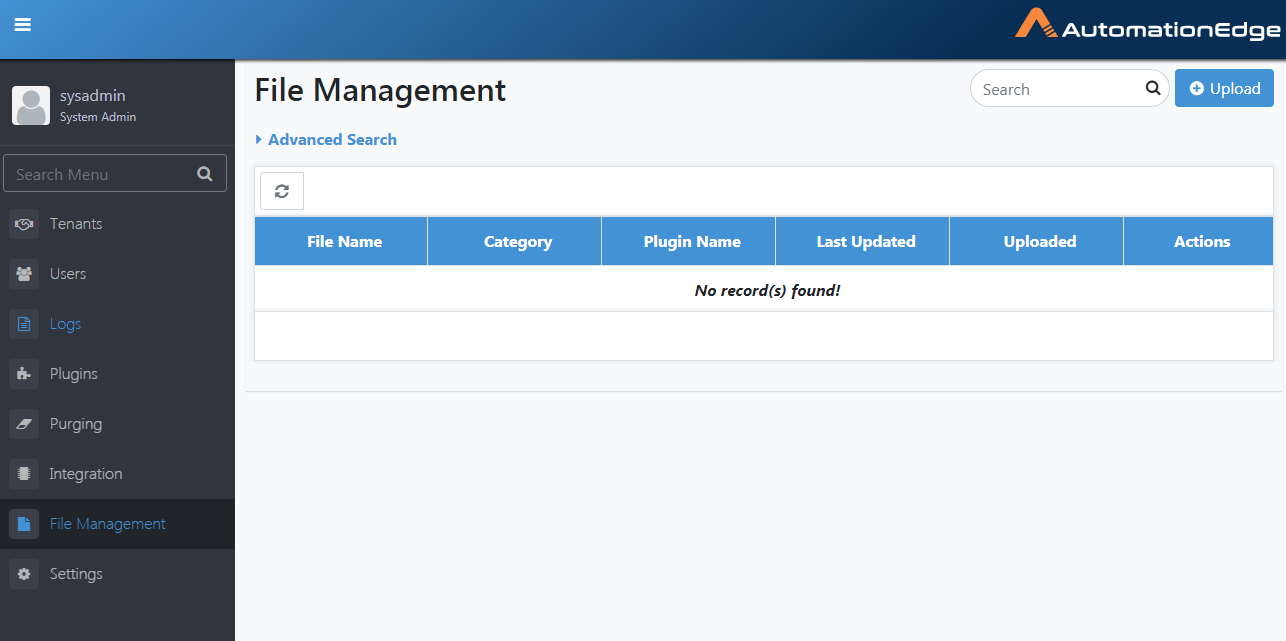 Figure 16k: File Management

The New File popup appears. Click the arrow next to the Select Plugin field.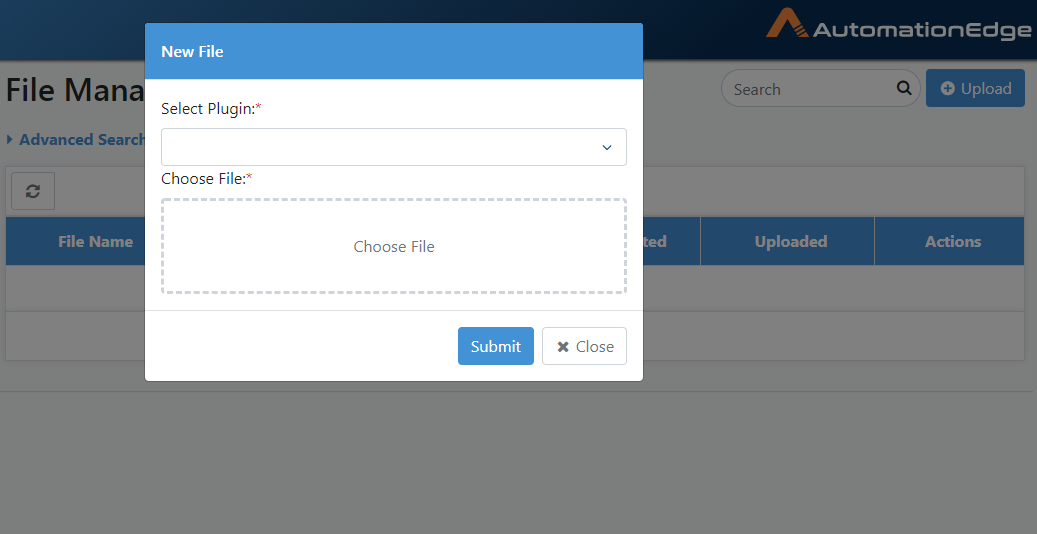 Figure 16l: Upload Files for Plugins

A list of Plugins appears. Select one or more Plugins by enabling check box next to the Plugins.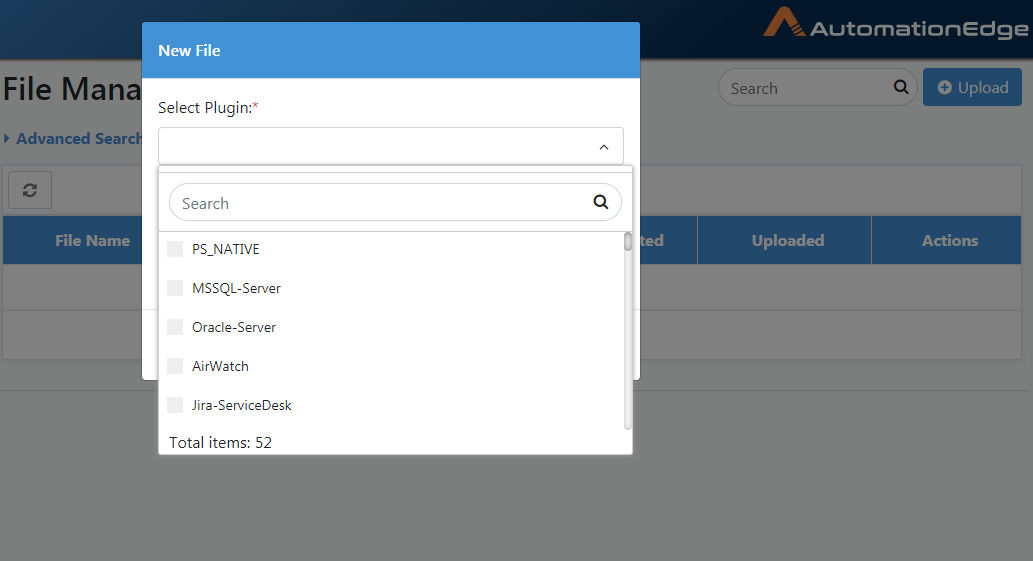 Figure 16m: Search Plugin

Else,

type a search string to filter Plugin names. Select WebGUI in this case.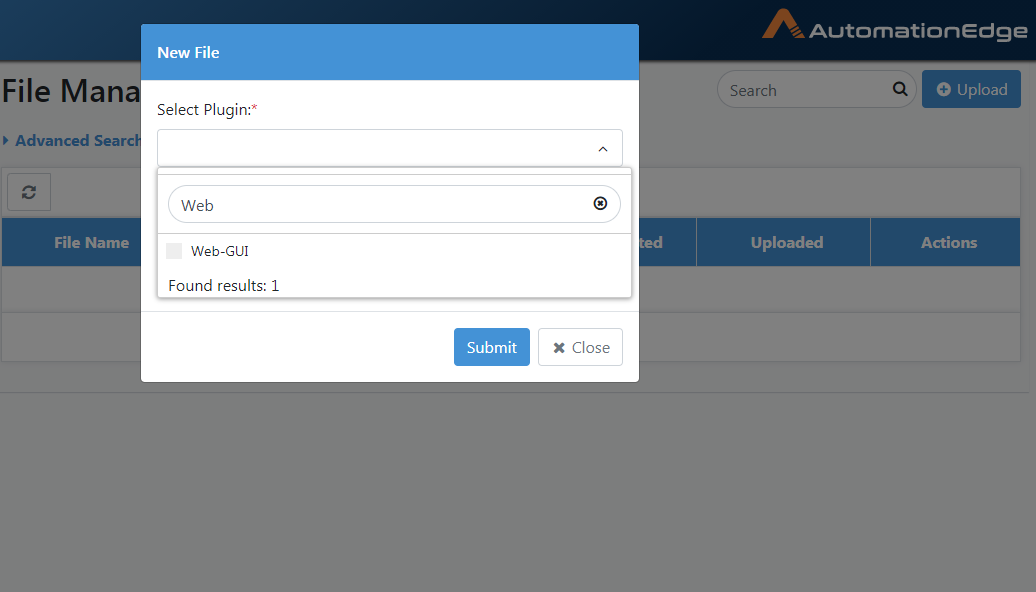 Figure 16n: Select Plugin

You are now ready to Choose File. Click on Choose File.




Figure 16o: Plugin Selected

Choose a file as seen below.

Click Submit.


Figure 16p: Choose File

File Uploaded message appears. You can also see the uploaded file in the list.



Figure 16q: File Uploaded

This completes the process of uploading Plugin related files centrally.




Similarly, the same menu can be used to view the list of files uploaded, Search files

, Edit

and D

e

lete files.




After

a file is uploaded, it will

be

automatically download

ed

onto the Agent and downloaded on Process Studio

upon

sync

hronization.